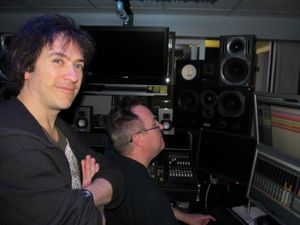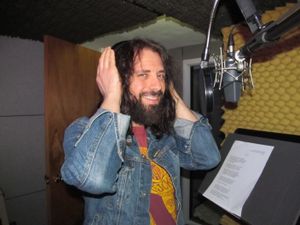 We are currently composing and arranging songs that will be included on our first album. Recording is anticipated in the Fall of 2014, as well as a teaser (video clip). The album will be available in 2016 only. You would be able to hear our original repertoire since then at our concerts. Flying Joes have many Rock 'n' Blues songs for you!

On the photo: our sound engineer Reggie "The Beast" Thompson!

Nous sommes en ce moment en train de finaliser les arrangements et la composition de notre premier répertoire d'album.  L'enregistrement est prévu cet automne, de même que la sortie d'un mini clip. Ce premier album sera disponible à l'achat en 2016. Vous pourrez entendre un aperçu dès maintenant de l'album lors de nos différents spectacles. Flying Joes vous réserve des compositions orginales rock 'n' blues!

Sur la photo, notre ingénieur de son Reggie "The Beast" Thompson!