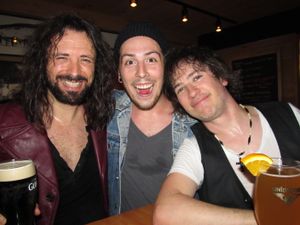 We will be performing at Blues Festivals in Quebec this summer. Just seven months after the band was formed, our calendar is crowded with festivals, performances and music! This is just the beginning. We'll be happy to meet your families at the Nuits Blues Laurentides Festival in Saint-Sauveur (August 16, 2:30 PM) and at the VIP en Blues Festival in L'Île Perrot (September 20, 5:00 PM).
We hope the weather will be mild. We wish you a lovely summer! 
Nous serons en spectacle cet été dans le cadre de festivals d'été au Québec, après seulement sept mois d'existence du groupe, le calendrier de spectacle est bien rempli et ça ne fait que commencer!  Nous serons heureux de vous voir en famille lors du Festival Nuits Blues Laurentides à Saint-Sauveur le 16 août à 14h30 et au Festival VIP en Blues à l'Île Perrot le 20 septembre à 17h00.
Espérant que la température sera clémente pour ces occasions, nous vous souhaitons un bel été!