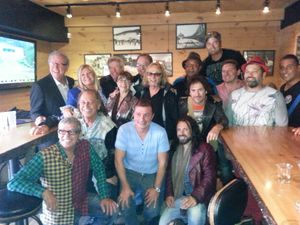 JF and myself (Syd) were at the Saint-Sau Pub Gourmand last July 28, for the press conference unveiling the four summer Festival's program in St-Sauveur. Member of the legendary French rock band Offenbach Breen Leboeuf were there. It was a great experience meeting Breen, as fans of Offenbach since many years!
JF et moi (Syd) étions présent au Saint-Sau Pub Gourmand le 28 juillet dernier pour la conférence de presse dévoilant la programmation des quatres festivals d'été de Saint-Sauveur, dont Nuits Blues Laurentides parainné par Breen Leboeuf (ex membre du légendaire groupe Offenbach).  Ce fût une belle rencontre d'ailleurs avec Breen en tant qu'admirateurs du groupe Offenbach depuis plusieurs années!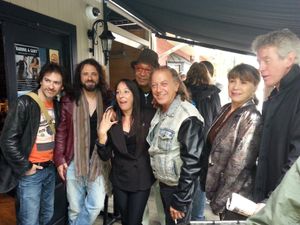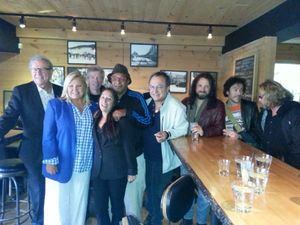 Flying Joes were there as winners of the Nuits Blues Laurentides contest, in the Songwriter category. Don't forget to come and see us performing on the big Rona Dagenais stage next August 16, at 2:30 PM!
Were there as well: the mayor of Saint-Sauveur, Breen Leboeuf (spokesperson), Paul Daraîche, Jah Lex, Carlos Placeres and Michèle Richard. Congratulations to the organizer of the Festival Nathalie Ruscito!
Flying Joes y était en tant que gagnant du concours Nuits Blues Laurentides comme auteur compositeur.  N'oubliez pas notre spectacle au festival sur la grande scène Rona Dagenais  le 16 août à 14h30!
Étaient également présents le maire de Saint-Sauveur, Breen Leboeuf (porte-parole), Paul Daraîche, Jah Lex, Carlos Placeres et Michèle Richard.  Bravo à l'organisatrice du Festival Nathalie Ruscito!