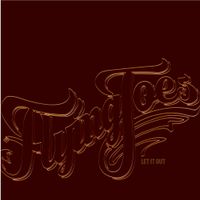 Our second radio single is now sent to Canadian rock stations: the title track LET IT OUT. Rock 'n' Roll!  We like this rock song, it's the album opener, a kick-ass guitar riff, heavy drums as we like it and Syd high pitched vocals that rocks through! The perfect blend to begin something...
Thanks to the radios that featured the song this week! Follow them on our Twitter page! 
www.twitter.com/flyingjoes
Notre deuxième extrait radio est maintenant envoyé aux stations canadiennes: la chanson titre LET IT OUT. Ça rock! On adore cette chanson, c'est notre tune d'ouverture sur l'album, un riff de guitare "kick-ass", du drum pesant comme on l'aime et la voix haut perché de Syd qui rock à fond! Le mélange parfait pour débuter quelque chose...
Merci aux stations qui ont fait joué la chanson cette semaine! Suivez les ajouts sur notre page Twitter:
www.twitter.com/flyingjoes
LISTEN TO "LET IT OUT" ON SPOTIFY / ÉCOUTEZ "LET IT OUT" SUR SPOTIFY