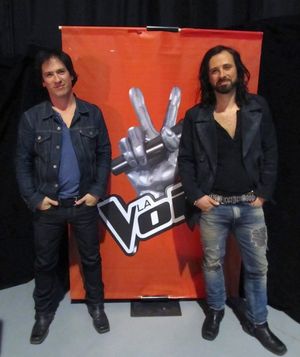 An emotional evening at "La Voix"!
I have the privilege of developping myself through my art, what could be more fantastic?
I ended up as one of more than 5000 candidates at The Voice (Quebec) pre-auditions, it certainly is a challenge! The Voice means more visibility for me and my band Flying Joes, the project I cherish most since one year with my colleague and friend JF Arsenault (on the picture).
What I want to tell my fans is that I am continuing with my dream, growing in one's personal vocation, increase self-confidence and bring hope. These are ideals very close to my heart.
Thanks very much to you my friends for your support. What better way than rock to put you in a good mood. I would like to congratulate all the participants. Keep on rockin'!
Soirée émouvante à La Voix!
J'ai le privilège de me réaliser à travers mon art, quoi de plus merveilleux?
J'ai été sélectionné parmi plus de 5000 candidats aux pré-auditions de La Voix 2015, c'est tout un challenge!
Pour moi La Voix, c'est synonyme de visibilité ainsi que pour mon band Flying Joes, ce projet que je chéris depuis déjà un an avec mon accolyte et ami JF Arsenault (sur la photo).
Je veux dire à mes fans que je continue de poursuivre le rêve, car se réaliser, croire en soi et apporter de l'espoir, ce sont des idéaux qui me tiennent vraiment à coeur.
Merci beaucoup mes amis pour votre support, quoi de mieux que le rock pour mettre la bonne humeur. Je tiens à féliciter tous les participants. Keep on rockin'!