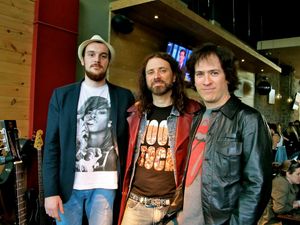 Spring brings new life to Flying Joes! Welcome to our new drummer Marco Forand who takes the bite out of our completely burst rock.
By the end of May, we will be releasing our first single. The song called "Battlefield" will be on sale online for the fans. We'll be doing the making of our first video clip in the beautiful Laurentides area, with a wonderful and creative team. We want to thank you for your big patience! Stay connected to be kept up to date and to rock with the band!
Le printemps apporte un vent de renouveau pour Flying Joes! Bienvenue à Marco Forand, notre nouveau batteur qui mord à pleines dents dans notre rock disjoncté!
À la fin du mois de mai, nous lancerons enfin un premier extrait de notre premier album. La chanson "Battlefield" sera en vente sur les plateformes numériques pour les fans.  Nous tournons aussi notre premier vidéo-clip dans la région des Laurentides avec une équipe assez éclatée! On a très hâte de vous faire entendre le résultat. Restez branchés sur les nouvelles pour rocker avec nous!